On the afternoon of Sept. 19, CGPI Thoughts Sharing Conference themed with "Philanthropy and Education: Diversified Exploration and Innovative Practice" and the ceremony of E6 Room of the Institute was held in Shenzhen. Wang Zhenyao, President of China Global Philanthropy Institute, Professor He Jin, Liang Min, head teacher of EMP6 class and student representatives attended the ceremony, so did more than 50 experts, alumni and philanthropy partners who care about education.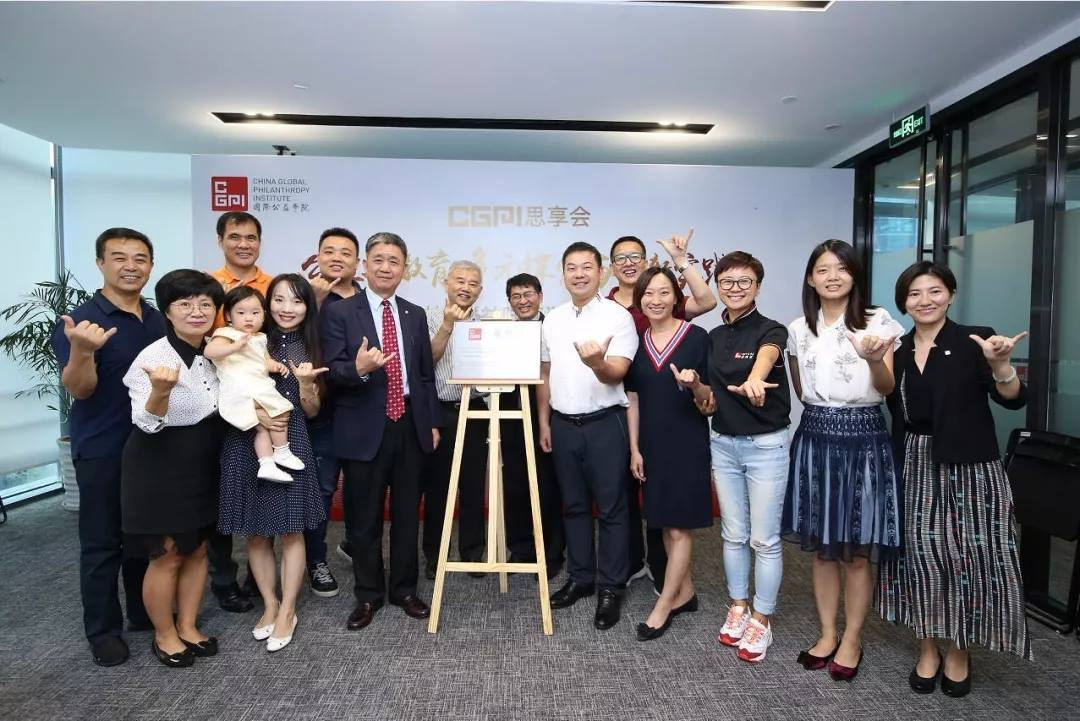 On the occasion of the fourth anniversary of the founding of the Institute, alumnus Zhang Tianpei has donated a total of RMB 1.5 million in three years for his friendly feelings about his alma mater and schoolmates. He sponsored the flat classroom in Shenzhen Campus of the Institute in the name of class, and contributed to the sustainable development of the Institute. E6 Room has also been the first classroom sponsored by alumni since the establishment of the Institute.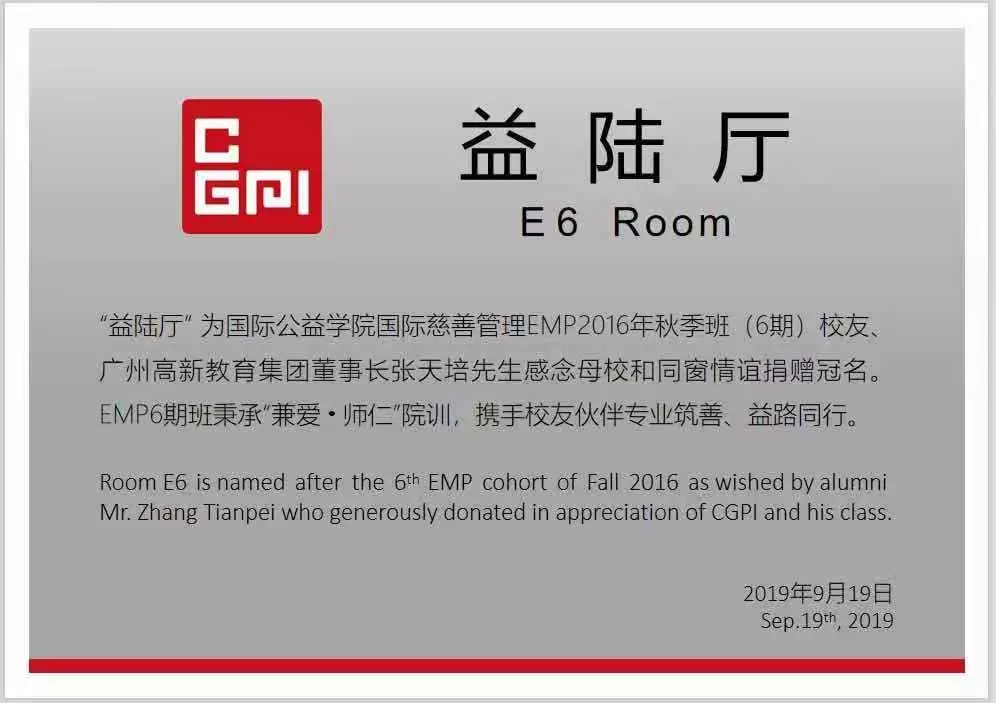 Alumnus Zhang Tianpei has been working in the education sector for nearly 20 years. In addition to focusing on education, he is enthusiastic about philanthropy and has been actively involved in poverty alleviation through education for many years, especially rural education. In recent years, Zhang Tianpei and Gaoxin Education Group under his leadership have donated more than RMB 10 million to education. In Dec. 2016, Zhang Tianpei joined the EMP6 class under Executive Management of Philanthropy. In the past two years of philanthropy study, he has established a close relationship with the Institute and his classmates. To be grateful for his alma mater and to his schoolmates, alumnus Zhang Tianpei sponsored the flat classroom of E6 Room in the name of class. EMP6 class looks forward to working with alumni to embark on a road to philanthropy.
 President Wang Zhenyao said in the speech that everything was connected and our love could also be connected. We shall create a space for innovation, and make the biggest reform with the smallest obstacles. We shall turn such "love" into power and combine it in an appropriate way to make good changes and improvements in China. From here on, a mighty educational reform will be carried out.
 Alumnus Zhang Tianpei shared that he was very grateful for China Global Philanthropy Institute. In the course of study, he made good friends with his classmates and was deeply enlightened in work and career by the course, especially B-CORP. As the helmsman of an education group, he is able to rethink and sort out the cultural strategy of the group and each of its schools, from paying attention to students, teachers and parents to making clear "Build a school, Benefit the people" as the mission. At the same time, he takes "A community with shared future and growth" as the pursuit of the group and each of its schools. Centered on the development of students and cooperated by the growth of parents and teachers, he aims at family happiness and social harmony. To build "A community with shared future and growth", the team has a mission and everyone has his own belief. Everyone shall make people around him better because of his own existence, promote the progress of the industry and society with altruism, and help the education group go further and see wider.
 Alumnus Zhang Tianpei made sustained contributions to philanthropy while developing an education group. As the president of Guangdong Mechanic Vocational Training College Of High-New Tech, he initiated the foundation and has provided financial aid for more than 2,000 teachers and students in distress. On the occasion of the third anniversary of the founding of China Global Philanthropy Institute in 2018, he donated RMB 30,000 to the Institute and sent a group of colleagues to join the EMP project under Executive Management of Philanthropy.
 Since the establishment of China Global Philanthropy Institute in Nov. 2015, it has been adhering to the mission of "Cultivate a model of global philanthropy", made remarkable achievements in philanthropy education, research and advocacy, international philanthropy exchange and other fields, and created global influence. Themed with "United philanthropy for a centennial dream", the Institute is about to celebrate its fourth anniversary. To realize the dream of more philanthropists and partners and the dream of "Centennial Institute", we sincerely invite you and alumnus Zhang Tianpei to join "CGPI Partners" and work with the Institute sponsor and colleagues towards a common dream!